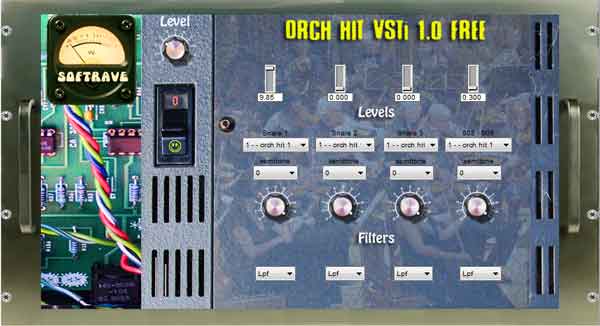 Softrave presents Orch Hit VSTi 1.0

This virtual instrument have 70 orch hits sounds from various drum machines & keyboards.
You can mix orch hits and stabs in proportions and tune them and filter them individually to create new unique orch hit sounds.
Good for electro, 80`s oriented, synth pop, electroclash, nu - rave and other electronica styles
You can demo ofFree Orch HitsVSTi at Mediafire
simple youtube video
11 Eu personal license
15 USD personal license
We well send you instrument as soon as possible, normally the same day, 2 days delay is possible sometimes.
sers of Win 7 sometimes have issues with plugins made with Synthedit please read here
This software is working on PC, not on Mac
You also can earn money with installs of your free software - register with this banner
You may also be interested in:
License
We provide customers personal signed copy of VST Your name will be written at plugin interface.
This plugin is licensed for one person only, you have no rights to share this plugin with other people.
We want to protect our intellectual property that we sell for affordable price. Thank you for understanding.
This plugin is created by SOFTRAVE © (p)2012
Programming, design - Dmitry Tikov
All rights reserved
---
Order T-shorts and other gifts with Softrave Robot At This Shop
---
Plug-in vendors (Community of developrs): ToneBytes / Softrave / Syncersoft