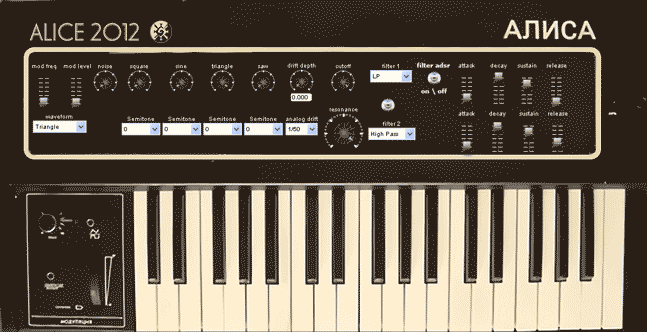 Alice 2012 ver 3 is based on waveform samples from Alice 1387 vintage analog soviet synth produced in 80 `s.
The idea was to recreate deep low sounds of Alice 1387 as close as possible to original. In version 1.1 fully
controllable analog drift of the filer was added to schematics. This synth is good for electro, techno, idm ambient
and other electronica styles.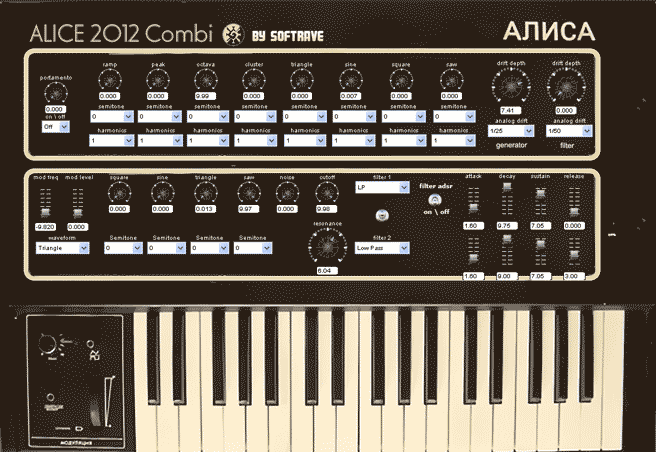 Alice 2012 Combi is based on waveform samples from Alice 1387 vintage analog soviet synth produced in 80 `s
and extended with 8 more digital oscillators - so in total you have 12 waveforms. You can assign depth and
quality of analog drift of generators and filters to make sounds more warm, oldschool and alive. Mono|
portamento function work only for upper section of generators.
Minimal wave track with Alice 2012 sounds made by Retranslator
Sound comparison with original synth
Experimental ambient noise track by retranslator. Only Alice 2102 presets used
You can download demo of Alice 2012 & Alice Combi at Mediafire
11EU
15 USD
We well send you instrument as soon as possible, normally the same day, 2 days delay is possible sometimes.
sers of Win 7 sometimes have issues with plugins made with Synthedit please read here
This software is working on PC, to use it on MAC OSX you can try this program VFX host Software for Mac
You also can earn money with installs of your free software - register with this banner
You may also be interested in:
Analog Techno Kick VSTi 2 - affordable Bass Kick Rompler

- 11EU \ 15 USD

Lady Anna Voice VSTi - 512 sounds of female vocal singer Anna Pons from Pop Punk band Green Dragonfly 15 EU \ 20USD

Vintage Analog Filter VST is constructed to emulate analog instability of electric circuits of vintage filters. You can control the level of analog detune with analog drift section. you also have big choice of waves to modulate filter to make psychedelic, cosmic or just disco and house effects. With this plug you can add some vintage analog feel to boring digital sound.

11€ / $15

is an easy-to-use virtual effect plug-in for Windows which adds the sound and atmosphere of analog recordings to your tracks and mixes.

15€ / $20
License
We provide customers personal signed copy of VST Your name will be written at plugin interface.
This plugin is licensed for one person only, you have no rights to share this plugin with other people.
We want to protect our intellectual property that we sell for affordable price. Thank you for understanding.
This plugin is created by SOFTRAVE © (p)2012
Programming, design - Dmitry Tikov
All rights reserved
---
Order T-shorts and other gifts with Softrave Robot At This Shop
---
Plug-in vendors (Community of developrs): ToneBytes / Softrave / Syncersoft