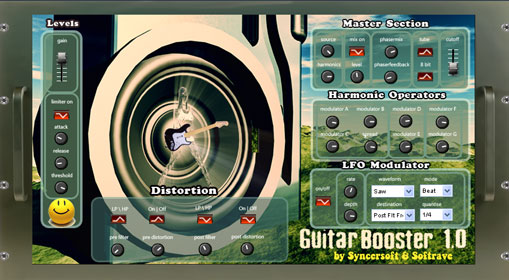 Syncersoft & Softrave presents GuitarBooster VST 1.0

Guitar Booster is revolutionary plugin that enriches sound with creation of new harmonics using algorithm based on unique new psychoacoustic effect: crossmodulation of harmonic operators and imposition of new frequencies. This plugin is combining technology of enriching low frequencies used in BassBooster plugin with Big Muff style double cascade distortion. Its useful for Bass guitar too. Recommended for all styles with distorted guitar - grunge, punk, stone-rock, hard rock, metal, nu rave indie-rock, lo-fi trash and 8 - bit chiptune music LFO section is useful for Electrorock , Electrohouse & Dubstep styles. You can create unique tempo- synced distortion effects and pseudo sidechain waves of sound for guitar. It make sense also to pass some synth basses through plugin to make them sound more agressive, powerfull and less synthetic
(Being a guitar player by myself i can recommend also to use another slight distortion or hardware box distortion tube unit in circuit before the sound enter Guitar Booster so you can have more fun with sound , some beta testers think the same.)

Plugin creates effect of intellectual boosting of harmonics in terms of Intellectual Information Technology (IIT)
Development of this plugin was inspired also by psychoacoustics research of Shlejonkin Alexandr and russian works on mathematical physics.
Price for plugin is 14,55 EU/19,99 USD
Download demo of GuitarBooster VST here at Mediafire
you can use demo 20 times after that it will produce noise. Its not possible to reinstall demo again.

You can purchase GuitarBooster 1.0 with Paypal or debet & credit card.
Use this button to purchase Guitar Booster VST
This software is only for PC, not compatible with MAC
You can also purchase TapeHarmonizer together with other 3 plugins
in Harmonics Pack for 39,99 € / $49,99
Purchase
14,99 EU
or 19,99 USD with this button

Harmonic operators section define psychoacoustic effect of bass. Operators modulate each other
in a special way that open a venue to experiment and possibility to achieve bass sound that you want.

LFO section was designed specialy to create effects of tempo synced distortion, modulation etc With help of this section you can control pulsation of harmonics with temp syncing or manually.
To assign controller to knob make a right click of the mouse on virtuall controller and you will see pop-up menu where you can choose controller.

It also contains switchable tube emulation and 8 bit section to create new effects usable in modern electronic music.
Tube effect make sound warmer in a way it happens in circuit of tube amplifier.
Main trick for 8 bit is that you can create chiptune sound at high and middle section but still has good bass at low frequency. With help of this you can play 8-bit sounding guitar live.

Cutoff section define what type of harmonics will be created and added to mix. It also can be used to create
dj kind of effects in realtime.
Level section contains gain to control the volume and limiter that you can tune for your needs.

You may also be interested in:
License
We provide customers personal signed copy of VST Your name will be written at plugin interface.
This plugin is licensed for one person only, you have no rights to share this plugin with other people.
We want to protect our intellectual property that we sell for affordable price. Thank you for understanding.
This plugin is created by SOFTRAVE © (p)2012
Programming, design - Dmitry Tikov
All rights reserved
---
Order T-shorts and other gifts with Softrave Robot At This Shop
---
Plug-in vendors (Community of developrs): ToneBytes / Softrave / Syncersoft